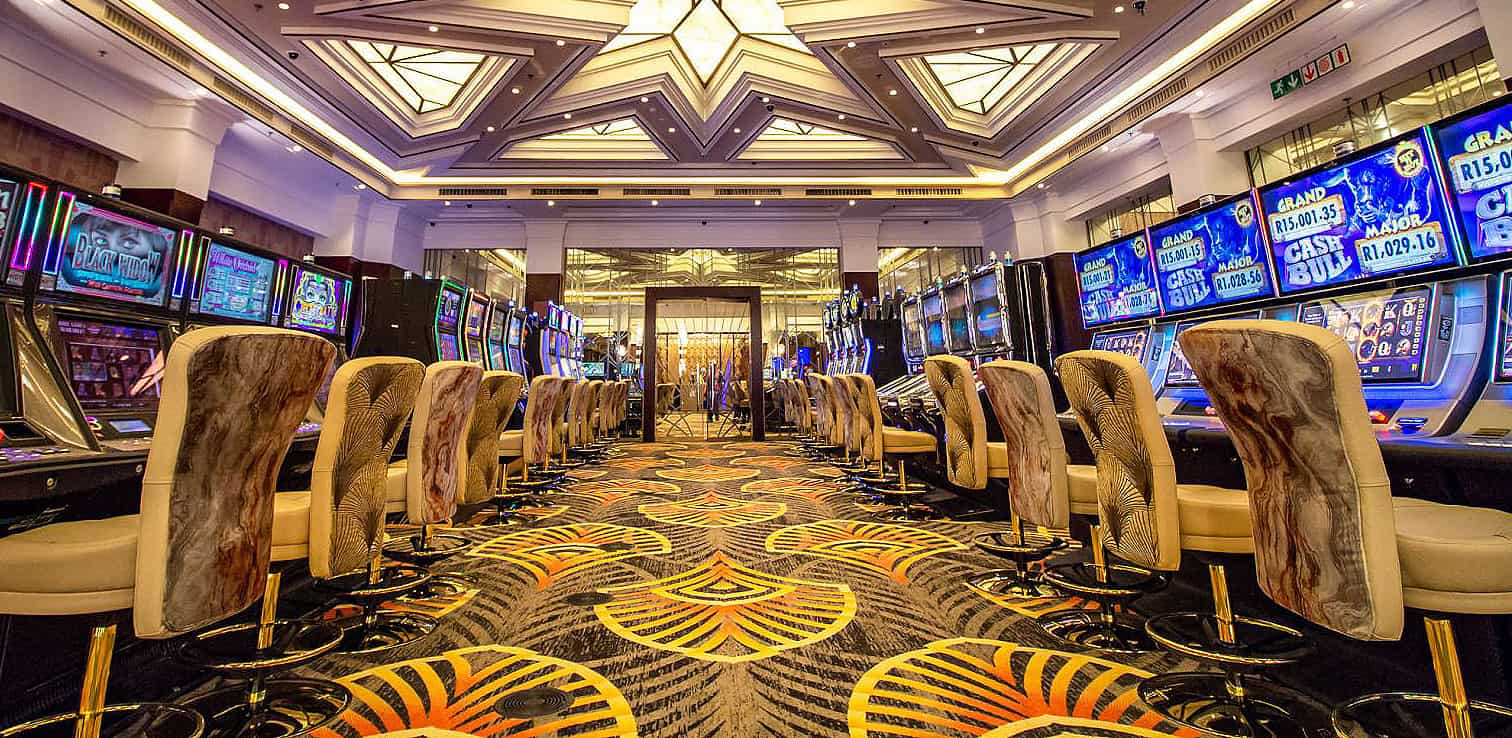 Every club, pub and hotel is different and has its own unique look and feel. Within the gaming room, the lighting, carpeting, location of the bar, and the placement of machines and stools in the game room, all combine to create a unique atmosphere. The stools in your game room are the single item that your players will be in the most physical contact with while gaming. To improve the players experience in your venue, make sure that the stools are comfortable. How to improve the comfort of your gaming stools.
Bar stools should be adaptable to suit any game room. At Karo, our diverse product range can easily be customised to suit a variety of different needs. Here are some of the features that can be customised on our casino chairs.
1. The upholstery
Without any doubt, the upholstery of the bar stools in your game room can have a dramatic effect on the overall look and feel of your venue. The variety of options is simply enormous. Bright colours can transform your bar stools into "feature" items, while simple black upholstery allows the stools to "blend or fade" into the background of your game room. Upholstery options for your game room stools.
Casino chairs can be upholstered in either one or a combination of fabric, vinyl and leather. What is the difference between leather and vinyl?
a. Fabric and Vinyl Upholstery
For many years, fabric was the most popular upholstery option. The huge variety of fabrics contributed to an 'explosion of colour' in many game rooms. Good quality fabric can last for many years, and selecting appropriate colours and styles for your gaming room bar stools can quickly improve the overall look and feel of your venue. What Upholstery options are available?
Cleaning fabric upholstery has always been an issue in a hospitality venue, even with easy-to-clean Crypton fabric. With the advent of COVID, cleaning has become even more onerous and has resulted in many hotel and bar owners preferring to upholster their game stools in vinyl. While this is a very serviceable option, vinyls, unlike fabrics, are generally only available in plain colours. Upholstery Cleaning Guide for bar stools in your gaming room.
Because the seat upholstery is usually subjected to the most use and therefore dirt, we offer quick-release seats on many of our gaming bar stools so that you are able to quickly exchange a soiled or damaged seat cushion on your game room floor.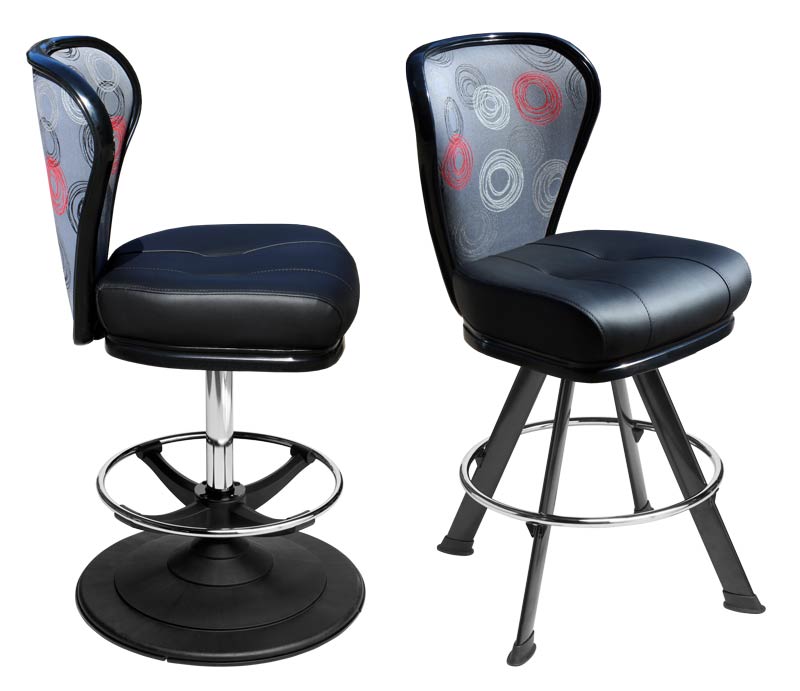 Combination Upholstery
Because the seat of a stool is more vulnerable to spills and stains, many bar and hotel owners are opting for "combination upholstery" for their gaming room chairs. Here the seat is upholstered in vinyl or leather and the backrest in a matching or contrasting fabric.
In this way, pub owners can customise their stools and maintain the desired 'look and feel' of their game room, while simultaneously avoiding "boring" plain colours.
b. Leather Upholstery
A bar stool in your game room that has been upholstered with real leather is both luxurious and extremely durable, but it comes at a price.
Nothing says "class" quite like leather upholstery. It's unique smell creates an air of sophistication and refinement that cannot be artificially replicated.
To improve the strength and durability of our casino chairs, we have upgraded the seat upholstery on all our VIP ranges, namely Monte Carlo, Gemini, Orion and Lunar. As opposed to our standard black vinyl, all black seats on the VIP ranges are now upholstered in genuine Italian bovine leather, and the backrests either in vinyl or fabric. Using this "combination upholstery" approach, the price of a game room bar stool with a seat upholstered in real black leather is only marginally more than one upholstered in a high-grade vinyl or fabric.
c. Embroidery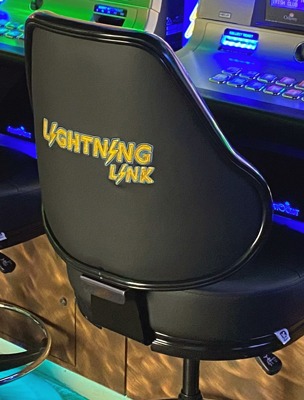 Customised embroidery on the outside of the backrest adds that 'personal' touch to the bar stools in your game room.
Add your venue name and logo, or just brand a particular gaming area.
In order to get the most from your embroidery design, we recommend using a contrasting plain fabric or vinyl on the outside of the backrest.
2. The base of your game room bar stools
There are 3 basic types of chair base that you can choose from, namely disc, 4-legged or 5-star. Each type has its own advantages and disadvantages so it's important that you understand what is right for your venue and of course, your patrons.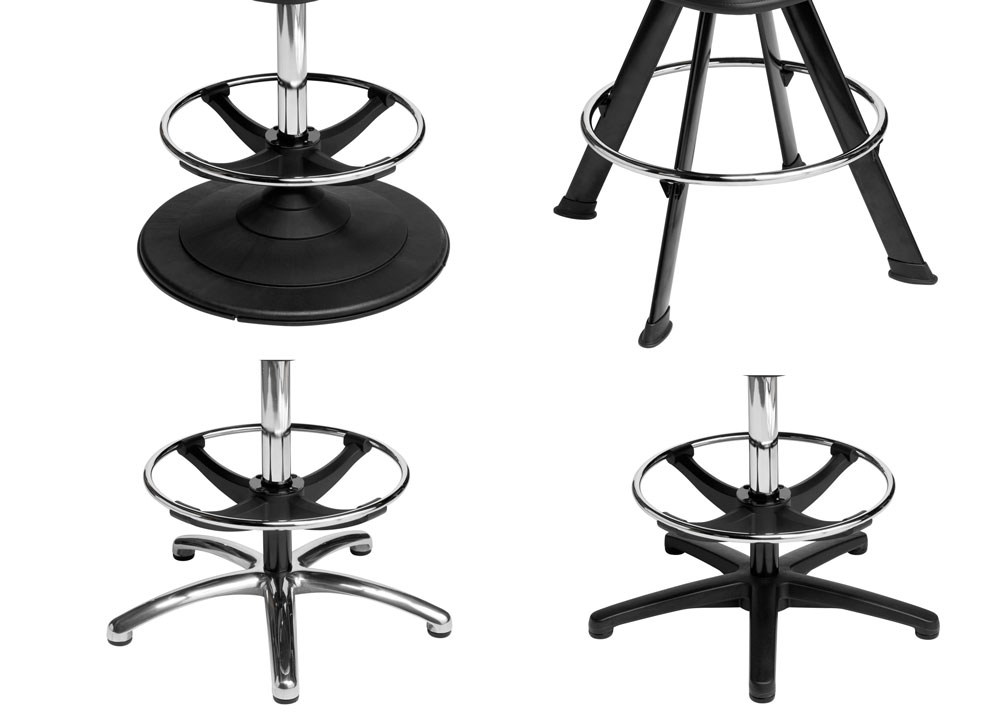 3. Bar stools swivel mechanism
The swivel mechanism plays an important role in the overall comfort of your stools. If the comfort of your patrons is important to you, there is little doubt that chairs with gas height adjustment are more comfortable than their fixed-height counterparts. Allowing the players to self-adjust the height of the chairs, enables them to better interact with the machine and also reduces muscle strain in the back, neck and shoulders that results from sitting at the incorrect height. Read more about what happens to your body when you sit.
Both gas and fixed-height swivel mechanisms are available with an automatic spring-back (auto-return) feature that returns the gambling stool to a neutral position when nobody is using it. As with everything else, you need to consider the pros and cons of having chairs with auto-return swivels.
4. Chrome, brass or powdercoating for the bar stools in your game room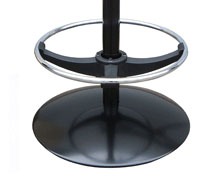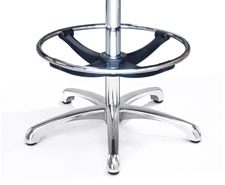 We offer a variety of options for your gaming stool centre-columns to add just a little 'extra' to your gaming room!
Related articles