Is the gaming stool seat and backrest still serviceable, but the undercarriage (base, centre-column and swivel mechanism) needs replacement? Alternatively, have you changed your gaming machine bases so your gaming stools are no longer at the correct height?
If the answer is yes, then Revive 2 may be the answer to 'refresh' your casino chairs or to ensure that they are at the ergonomically correct height!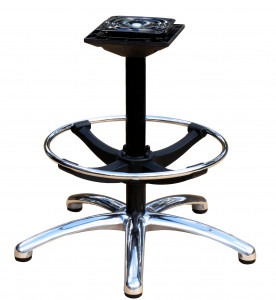 Replace the stool undercarriage on the existing seat and backrest!
With Karo's modular design concept, replacing the stool undercarriage has never been easier! By having a variety of fixing points, Karo's undercarriage may be fitted to a variety of seats. Simply unscrew the old gaming stool undercarriage and replace with the new set!
With Revive 2 you obtain the following direct benefits:
The possibility of changing the gaming stool undercarriage to 'renew' your gaming area.
Ergonomically correct stool height.
Lower cost.
Choice of base designs and finishes.
Less disruption and downtime as the new undercarriage can be fitted on-site.