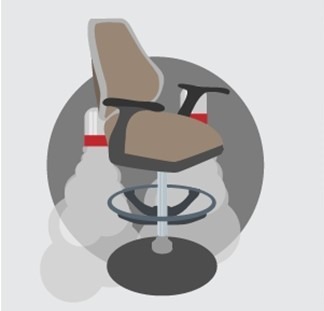 Gas height adjustment for gaming stools has been available for many years. Unfortunately they have somewhat of a poor reputation, predominantly due to the unreliability of the gas lifters when they were first fitted to casino chairs in the early 1990's. At that time, malfunctioning and leaking gas lifters were commonplace and they were soon replaced by the more traditional non-adjustable fixed-height swivel mechanisms.
While there is little doubt that any stool or chair fitted with gas height adjustment is more comfortable than one without, it is only in the last few years that gas lifters have regained popularity as improved designs have contributed to fewer failures and greater reliability. Click here for more information of the different types of gas lifters that are available for casino seating.
5 Benefits of gaming stools with gas height adjustment:
 1.   Safe and easy to operate.
 2.  Extremely Reliable. Modern gas lifters from reputable manufacturers are extremely reliable.
 3.  Vastly improved comfort and ergonomics.
The inherent damping effect of a gas lifter 'cushions' the impact when initially sitting on the stool which can prevent injuries to the lower back and/or coccyx.
4.  Gas height adjustable stools can be used for both slant-top and standard height gaming machines.
5.  Easy on-site replacement.