At the recent AGE Expo in Sydney, we launched our latest range of casino seating…the Poseidon Range.
This new range features an ergonomic contoured backrest for improved support and a plush high-density moulded foam seat. Naturally an integrated handle and our Quick-Release seat are standard features. The Poseidon is available with a variety of base options, be it a 4-legged, five star or our unique EZI-GLIDE disc base, all of which offer balance, stability and safety.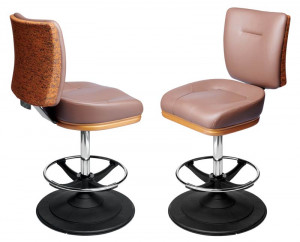 7-Year Warranty
Like all our casino seating, the Poseidon range is designed and manufactured in our own ISO 9001:2015 certified factory located in South Africa, and comes with a 7-year warranty.
Comfort and style with the Poseidon Range
The Poseidon is designed with user comfort in mind. To improve the comfort of our stools, we utilise state-of-the-art technology to assist the design and development process.
For more information on the Poseidon, contact the team for a quote today.