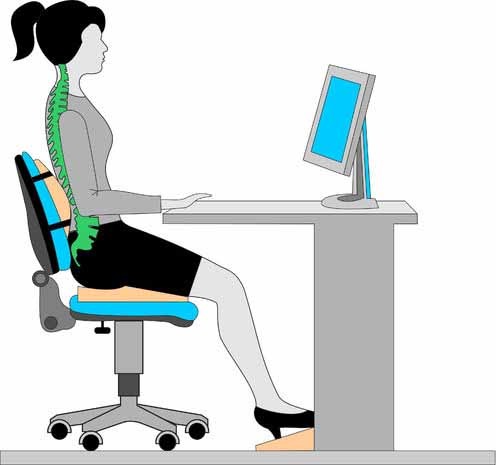 The Ergonomic Chair
An ergonomic chair is arguably the most important piece of equipment in any office as it can have a huge impact on your long-term wellbeing. A good ergonomically designed office chair can reduce the incidence of back pain and other ailments typically caused by sitting at a desk or table for long periods of time.
Important Design Features of an Ergonomic Chair:
a)  High-Density injection moulded foam is essential as it provides additional support and will not collapse after a short period of use.
b)  The seat should incorporate a waterfall front edge to reduce the possibility of pressure points behind the knees.
c)  The seat depth of a good ergonomic chair should be adjustable to accommodate a broader range of users, in particular people with shorter or longer thigh bones.
d)  The chair height should be adjustable. The correct seat height is achieved when your knees are slightly below the level of your hips and your feet are firmly on the floor. You should be able to operate the height adjustment mechanism whilst seated on the chair. Shorter people may require a free-standing footrest for greater comfort.
e)  The backrest should incorporate an adjustable lumbar support.
f)  Ergonomic chairs fitted with a synchronous mechanism promote Dynamic Sitting and are the preferred option. These mechanisms allow the angle between the trunk and thigh to change from the traditional 90 degree upright seated position, to approximately 110 degrees when fully reclined.
g)  Use height adjustable armrests that preferably also allow for a degree of width adjustment. The armrests support the forearms and/or elbows to avoid "raising" or "drooping" the shoulders which occurs when the armrests are too high or too low respectively.
h)  The 5-star base should have castors that roll freely over the floor surface. For most floor surfaces, a 60mm diameter nylon or rubber castor is the preferred option.