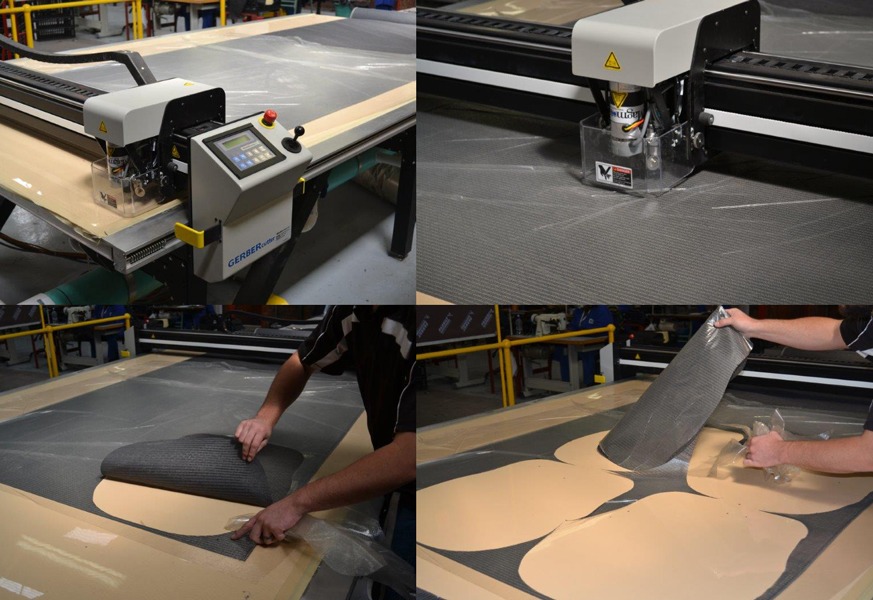 The manufacture of high quality office and casino chairs requires advanced automation. At Karo, we use a computer-controlled automated fabric cutting machine to cut all upholstery fabric and vinyl.
In our quest for continual improvement, our automated Gerber fabric cutting machine is used to accurately cut all upholstery material. Manufactured in the USA, this high-tech cutting system is generally acknowledged to be among the best available. The complex system firstly uses sophisticated software to 'nest' the various upholstery panels to optimise the usage of the upholstery material. Once the nesting is complete, the upholstery material is placed on the cutting table. Here a powerful vacuum holds the material firmly in place before the high-speed precision cutting wheel cuts the material.
Because we use this automated fabric cutting machine, the integrity of the sewing and upholstery processes is dramatically improved. The machine ensures that the panels for each chair are identically cut, which makes the sewing process both easier, and defect-free. This has a huge impact on overall quality of our chairs and stools. Of particular importance for those customers that upholster their chairs with a striped or patterned fabric, we are able to use the system's database to accurately record how a specific upholstery fabric was cut. This ensures that if you re-order the same chairs at some stage in the future (even years later), the upholstery material can be cut to exactly match the original.
Click here to select the upholstery covering for your gaming stools.
More information on Karo gaming stools