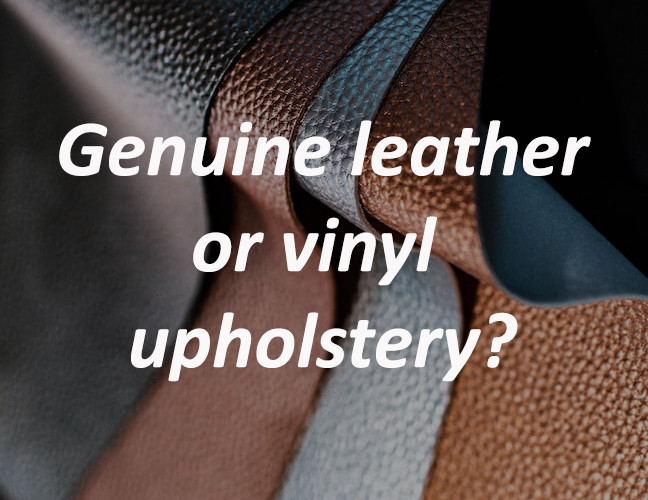 How do casino chairs with genuine leather upholstery compare to those with vinyl upholstery? Which is best? What are the pros and cons of each type of upholstery material?
Before we can answer those questions, it is important to consider the different types of leather available, and also the common misconception surrounding the term 'genuine leather'. For some people, "leather is leather", but this is not the case as there are huge differences between the different types of leather used for office and casino chairs.
If you Google the word "leather", you will come across various differences in terminology. For example, some manufacturers have different definitions for "real leather", "genuine leather", "Aniline" and "corrected leather". The aim of this article is to help you understand the difference between the types of leather, their advantages and disadvantages, and finally, their suitability as an upholstery covering for casino chairs. In essence, gaming stools can be upholstered in leather, bonded leather or faux leather (vinyl or polyurethane), and each variant is quite different from the next. How to Tell Real Leather from Fake Leather.
As a broad definition,
leather is a natural product that comes directly from an animal hide.
Bonded leather and faux leather (vinyl and polyurethane) are synthetic, or man-made products.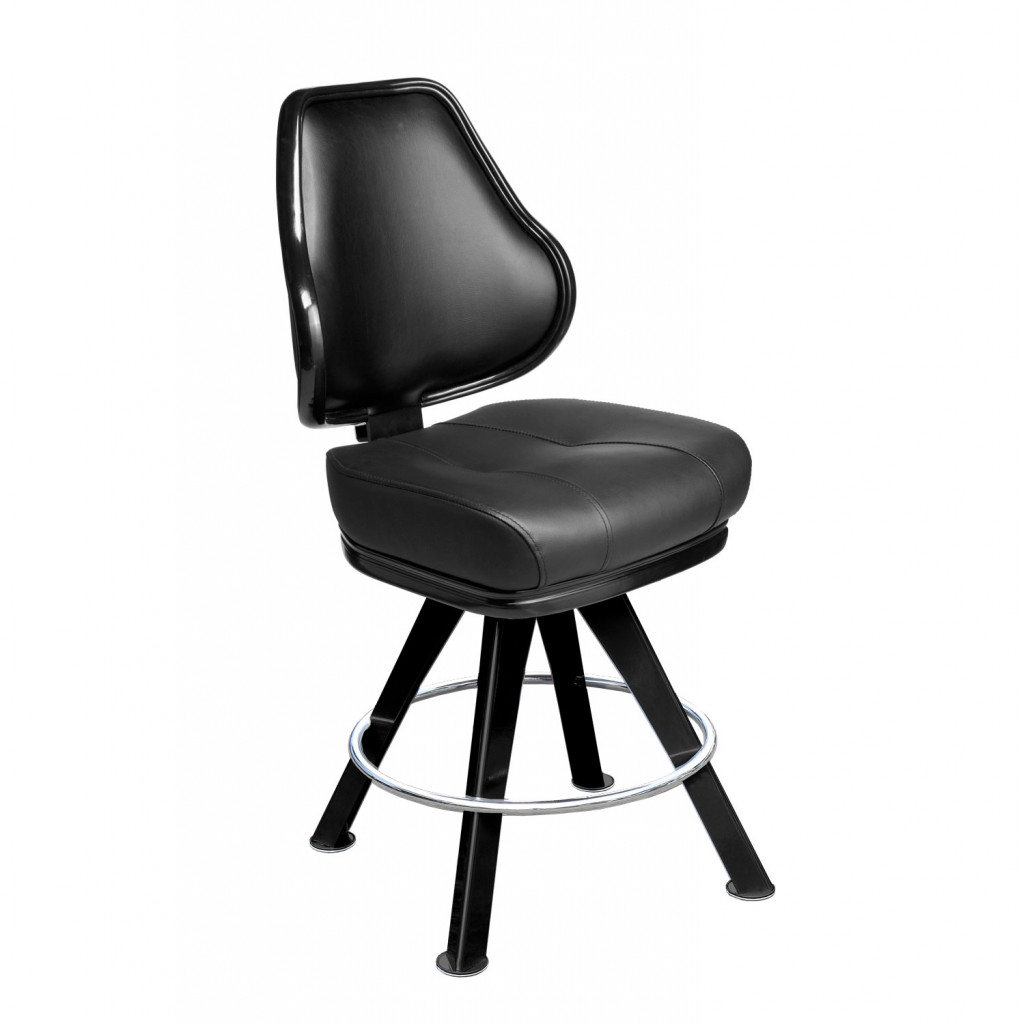 1. Genuine Leather
We define any leather that comes from an animal hide, as "genuine leather", and we only use bovine leather for the upholstery of our casino chairs.
Leather consists of layers or grades known as Full or Natural Grain, Top Corrected Grain and finally Split Grain Leather. Because it is a natural product, when you run your fingers across leather it will not feel perfectly smooth. If you press your finger into the leather, the surface will stretch and wrinkle, just like your skin.
Leather has a unique and inherent smell that cannot be imitated. Think of the beautiful smell of a new car with leather upholstery!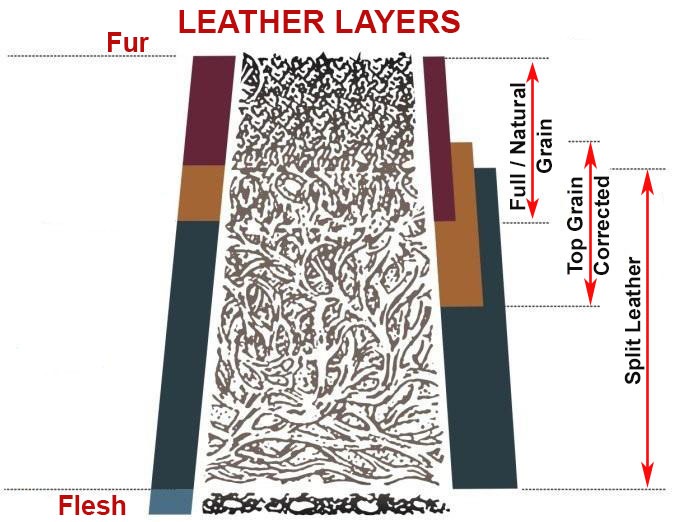 The outer layer of leather is the strongest. As you go lower, leather loses its density. The lower layers, namely those closer to the flesh, are used to make the softer versions of leather, such as suede.
Many people are not familiar with such terms as full, natural, top or corrected grain. Instead, they simply look for the words genuine leather.
a) Full or Natural Grain Leather
Full or Natural Grain Leather is also known as Aniline leather and is the highest quality of all types of leather. It is also the most expensive.
It is the top layer of the hide and includes the full thickness of the natural grain. With full grain leather, you can see the pattern of the skin and marks and scars from the animal's life. It is not sanded or buffed to remove these marks or imperfections. As the natural grain contains the strongest fibres in the hide, full grain leather is the strongest and most durable of all leathers. It also retains its original breathability and is weatherproof and damage resistant.
Full grain leather is dyed which can, (and does), result in colour variations from one dye batch to the next. Because of this, leather casino chairs, or any other products upholstered with full grain leather, will never be identical. This may result in a lack of uniformity on a gaming floor where "all stools must look the same".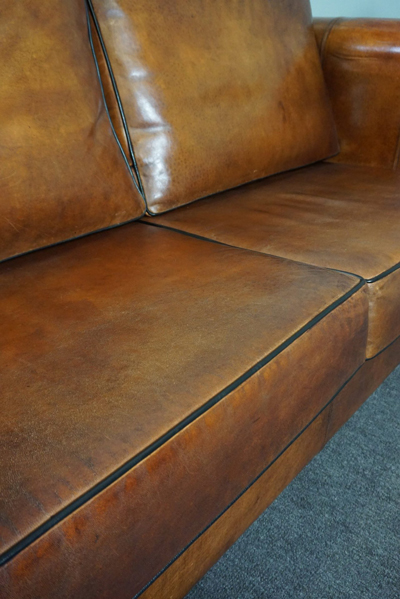 As full grain leather ages, rather than wearing out, it burnishes and develops a colour change or patina.
The patina is a soft sheen that develops on the surface of the leather and it only occurs on full grain leather. This adds a unique character to the leather….the more you use it, the better it looks and feels.
A patina only occurs on full or natural grain leather.
Because the natural grain has no artificial protective coating, it is susceptible to staining and is difficult to clean. Any liquid spillage will be absorbed into the leather and the resultant stain (if there is one), cannot be removed. Despite the fact that full grain leather is the best quality and most expensive, some consumers regarded it as inferior due to the visible marks and scars on its surface.
Natural grain leather is used for bags, wallets, belts, jackets and some high-end furniture like sofas, but it is not often used as an upholstery material for office and casino chairs.
Full, natural grain or aniline leather is the highest grade and most expensive of all types of leather.
Top grain corrected leather is the second-highest grade of all types of leather.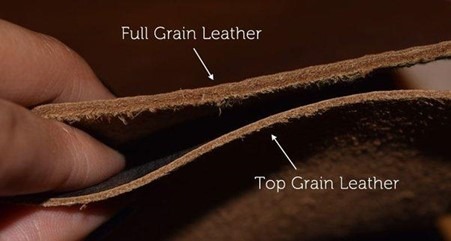 b) Top Grain Corrected Leather
Top grain corrected leather is also known as semi-aniline leather. This is the second-highest quality and is the type most commonly used in the upholstery of high-end leather office and casino chairs.
With top grain leather, the top of the hide is sanded or split off which removes the imperfections and marks on the surface. By removing the top portion of the hide, top grain leather loses some of its strongest fibers and as a result, it is not as strong and durable as full grain leather. It is however, more affordable.
After sanding away the marks and imperfections, top grain leather is imprinted or embossed with a fake grain to give it a uniform look. The leather is then pigmented and finished off with a clear protective layer. This protective layer prevents corrected leather from developing a natural patina like full grain leather, instead it will just get scuffed. The finishing coat reduces the breathability of the leather, but it provides protection against stains that would otherwise sink into full grain leather. Corrected leather is therefore much easier to clean.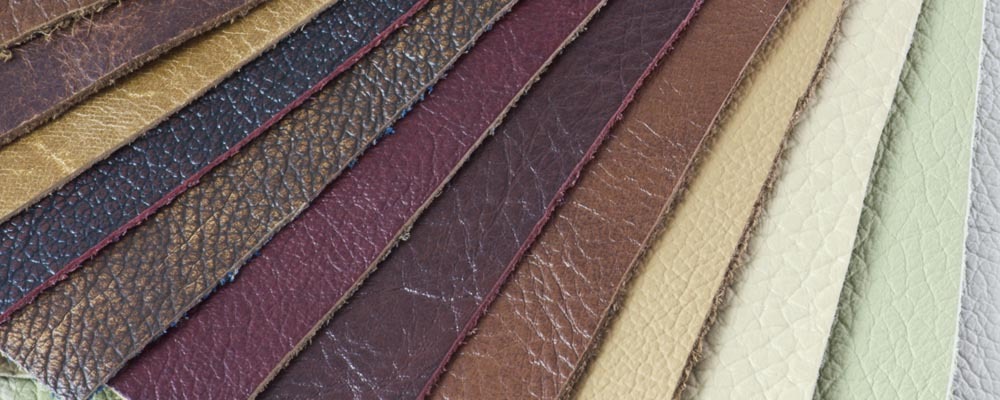 Correction of leather means removing the intrinsic marks and imperfections in the hide by sanding or buffing. The sanded layer is then imprinted with an artificial grain to make it uniform. Any leather that has been modified in this way is known as corrected grain leather.
Leather that has been corrected is highly suitable for those applications where durability, quality and a luxurious finish is important.
Top grain leather is ideal for high-end casino chairs.
c. Split Grain Leather
Split grain leather is the third split or segment of the animal hide. It is the weakest portion of the hide and requires chemical treatment to improve it's strength and durability. It is more altered or corrected than top grain leather, and the chemical treatment ensures that it is not as soft and supple.
Although split leather is better than artificial or faux leather, it is certainly not the best leather you can get. It is also the least expensive. As a result, split grain leather is often used for less expensive furniture or on the parts of furniture that experience less heavy use, such as the sides and backs of sofas, or the outside backs of office chairs.
Because of it's low strength, split grain leather is not suitable for hard-wearing surfaces, for example casino chair seats.
2. Bonded or Reconstituted Leather
If you enjoy the appearance and feel of leather but not the price tag, then bonded or reconstituted leather is the way to go.
Bonded leather is a synthetic leather manufactured from left over scraps of leather which are made into a pulp and mixed with bonding materials. It is then attached to a fibre cloth or paper backed sheet, dyed, embossed with leather like textures, and coated with polyurethane to give it a glossy look and feel of leather. Durability, smell, and texture depend on the degree of organic leather in the chemical mix, which can vary anywhere from 10% to 90%. Bonded leather chairs can portray very nice optics, but they cannot be compared to grain leathers in terms of quality and durability.
Bonded leather is mainly used to produce budget friendly furniture where aesthetics and low cost are important. Over time, bonded leather may peel and flake, whereas real leather cracks and fades, but does not peel.
Bonded leather is the "chipboard" or "particle board" of leathers.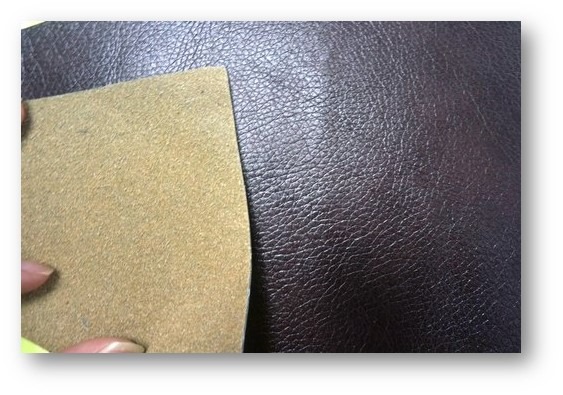 3. Faux Leather
Faux leather is a synthetic (man-made) leather. It is also referred to as imitation or artificial leather.
Faux leather primarily falls into two categories, namely Polyvinylchloride (PVC) commonly known as Vinyl, and Polyurethane (PU). Both these synthetic leathers are manufactured for similar furniture applications, but they differ in a number of ways. Many office and casino chairs are upholstered with faux leather. What is PU Leather?
a. Polyvinylchloride (PVC) or Vinyl
Vinyl (PVC) is made from two synthetic materials. The fibres of the upholstery are made from strong polyester fibres that are coated with polyvinylchloride (PVC) and plasticizers (phthalic acid). The PVC is melted onto the surface of the fibers, sealing them closed and making a virtually waterproof surface that is flexible and tough. Vinyl is harder and more durable than PU leather because it has additional layers underneath its coating.
Vinyl upholstery is easy to clean and maintain and is typically used where cleanliness is a top priority. Common examples are hospitals, restaurants, laboratories and factories. Vinyl can become uncomfortably hot if left in the sun and your skin can stick to its surface. Vinyl may also crack with extended use, especially if it is cleaned with alcohol-based solvents. Such cleaning agents destroy the plasticisers and make the vinyl hard and brittle. Gaming Stool Upholstery Cleaning Guide.
Most casino chairs and gaming stools sold in Australia have vinyl upholstery.
b. Polyurethane (PU) Faux Leather
PU is made by coating a backing fabric such as cotton or polyester with a flexible polymer and then treating it to look more like an animal hide. PU upholstery looks and feels more like real leather. Because there are no plasticisers used in PU, it doesn't crack or peel like vinyl, and will remain soft and supple. PU is considered greener than Vinyl because it does not create dioxins. Because it is softer and more pliable than vinyl, PU is easier to work with.
PU is the most realistic imitation of leather as it can wrinkle like leather and has a leather feel when used on casino chairs and other furniture. Of the two types of faux leather, PU is more expensive to produce.
4. Pros and Cons of different leather upholstery for casino chairs
5. What is the best leather upholstery solution for casino chairs?
At Karo, we offer the following four leather upholstery options:
a. Vinyl
Casino chairs and gaming stools fully upholstered in vinyl are popular because there is a huge variety of colours and designs available. Vinyl is the least durable and often the lowest cost solution.
b. Bonded Leather
Bonded leather upholstery is another popular option, but the variety of colours and designs is more limited compared to vinyl. As is the case with vinyl, bonded leather is cheaper than genuine leather, but is less durable.
c. Genuine Leather Hybrid
In this case, the seat of the gaming stool is upholstered in genuine leather and the backrest in either fabric, vinyl, or bonded leather. This significantly increases the durability of the seat upholstery (the part that is subjected to the most wear and tear), while reducing the overall cost of the chair. Furthermore, upholstering the backrest in a fabric or vinyl of a different colour or pattern, allows you to match the décor of your gaming room.
By creating a balance between quality, durability and cost, genuine leather hybrid upholstery is arguably the ULTIMATE solution.
In their standard configuration, the Monte Carlo, Gemini, Orion and Lunar ranges have genuine leather hybrid upholstery. The seats are upholstered in black top grain leather, and the backrests in a matching vinyl or fabric.
d. Genuine Leather
Ultimately, nothing beats the quality and durability (not to mention the wonderful smell!) of a casino chair fully upholstered in genuine leather. It does however come at a price.
Contact us for more information.