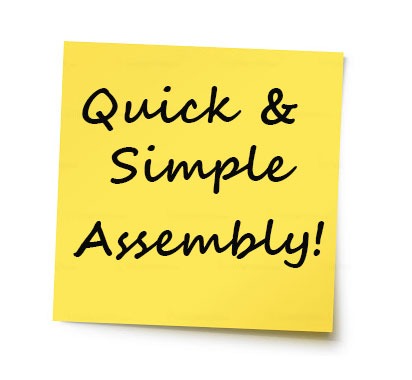 Fully-assembled gaming stools are bulky items which makes freight difficult and expensive. To reduce freight costs and also the possibility of damage occurring to the stools during transport, we have designed our casino seating in a way that addresses both of these issues.
Our gaming stools are supplied in sub-assembled components that are securely packed in a carton, each carton containing a complete stool. The sub-assembled components are quickly and easily assembled on-site.
1.  Pedestal Base Stools (Disc and 5-Star Base)
The assembly of our pedestal base gaming stools takes less than 10 seconds. No tools are required.
Click on the link below to download the assembly instructions or simply watch the video.
Assembly Instructions for Pedestal Base Gaming Stools
2.  All 4-Legged Gaming Stools
The assembly of our 4-Legged gaming stools is a simple process.
Using the 4 bolts (included), attach the 4-legged frame to the completed seat/backrest sub-assembly. You will need a 10mm spanner or a battery-operated impact tool with a 10mm socket spanner. The assembly time per stool is less than 3 minutes.
Assembly Instructions for 4-Legged Gaming Stools
Contact us should you experience any difficulty with the assembly of your new pokie stools.