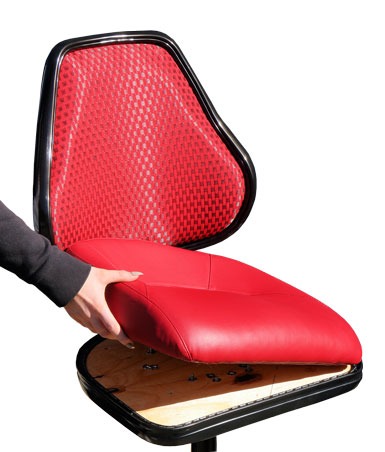 When purchasing new gaming stools, buyers often only consider the initial capital outlay and neglect to include the longer-term cost of Re-Upholstery. A wise buyer knows that a comprehensive costing analysis must include both the capital cost and the life-time re-upholstery cost of the stools.
Questions to ask your supplier
Before making a purchasing decision on new gaming stools, buyers should always ask the manufacturer or distributor a few questions about the life-time cost of the stools, for example:
How easy is it to re-upholster the seat and backrest? Can any upholsterer do the job or does it require specialist tools and/or skills?

How much downtime will I experience during the re-upholstery process and how will this impact my patrons and gaming revenue?

Will the seat and backrest foam be replaced during re-upholstery, and if so, will it be as good as the manufacturers original foam?

How much will it cost to re-upholster each stool?  

What is the total life-time cost of my purchase?
The life-time cost of Karo gaming stools is significantly reduced firstly due to our  PVC Protective Edge, and secondly due to our unique Quick-Release Seats.
The PVC Protective edge fitted on the backrests of many of our stools dramatically increases the life of the backrest upholstery, typically by a factor of 3. This means that if the seats need re-upholstery every 3 to 4 years, the fabric or vinyl on the backrests should normally last at least 10 years!
On any chair the seat is always subjected to the most wear, and in a busy gaming venue, it is frequently soiled and/or damaged. By separating the seat cushion from the stool structure, our Quick-Release seats offer a number of real and important advantages:
Replacement seat cushions can be fitted within minutes, right on your gaming floor! This simple process requires no specialist skills or tools, so when a gaming stool has a soiled, damaged or worn seat, it is no longer necessary to remove the chair from the gaming floor and send it off for repair. Stool downtime is reduced from days to minutes!
Avoid shoddy re-upholstery and the possible cost of replacement foam. Our spare seat cushions are new and factory manufactured so they are covered by our standard product warranty. 
Quick-Release seats are a standard feature on most of our ranges and we always include a few spare seat cushions free-of-charge with every order.
Contact us
 for more information on how to reduce the life-time cost of your gaming stools.