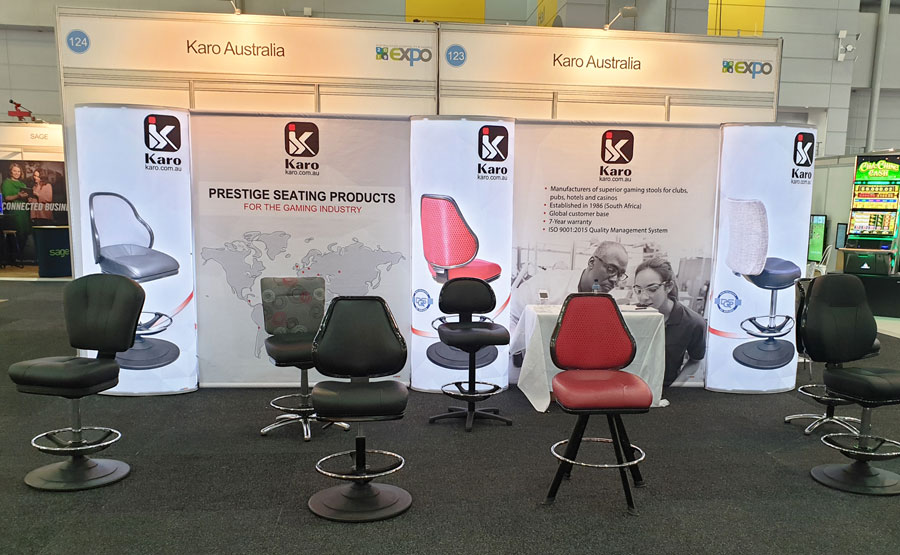 The AHG Expo was held in Brisbane on 27 & 28 March 2019. Our new Orion Range of casino seating proved to be a tremendous hit, particularly the gas-lift option fitted to our EZI-GLIDE disc base!
The other range that featured prominently was our top-of-the-range Monte Carlo. Over the past 6 years, the Monte Carlo has been in stalled in gaming venues in Australia, New Zealand and numerous locations in Africa. All our VIP casino chairs have an integrated handle, our Quick-Release seat, and are available with a variety of base options, including 4-legged, five star or our unique EZI-GLIDE disc base.
The addition of gas height adjustment dramatically improves player comfort. Not only is the player able to adjust the chair to it's optimum height, but the damping effect of a gas lifter 'cushions' the impact when initially sitting on the stool which can prevent injuries to the lower back and/or coccyx. Over the years, gas lifters from reputable manufacturers have become extremely durable. In fact, modern gas lifters now rival traditional fixed-height swivel mechanisms in terms of both price and reliability.
Designed and manufactured in South Africa
All our casino seating is designed and manufactured in our own ISO 9001:2015 certified factory located outside Johannesburg. For total peace of mind, we offer a 7-year warranty on all our gaming stools.